ADDIS ABABA – 20 MAY 2018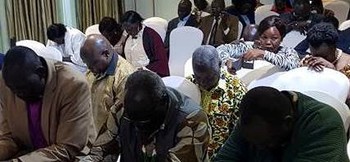 Delegates of both South Sudanese government and the opposition at the ongoing peace talks in Addis Ababa were gathered today morning by Church leaders to pray together for peace in the country.
Today's prayers were organized by religious leaders at the peace talks in order to build confidence among the negotiating parties as they spend days in Addis Ababa to agree on how to stop the ongoing war.
The South Sudanese religious leaders said the time has come for South Sudan leaders to accept each other and work for peace in the world's youngest nation.
Several delegates including religious leaders broke into tears during prayers.
The peace talks between South Sudan's warring parties in Addis Ababa are being convened by the East African bloc IGAD to push them back to agree on bringing an end to the ongoing devastating civil war.
The delegations are expected to resume the intra-South Sudanese afters prayers. The South Sudanese parties will report back to the regional mediation later today.
---
Source: Radio Tamazuj